Yesterday I got my first two cards from the Dogs With Blogs Holiday Card Exchange! How exciting!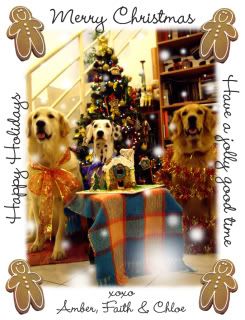 This e-card came from Amber-Mae, Faith and Chloe from
http://ambers-diary.blogspot.com
They are from Malaysia! I can't believe how perfect everyone is posed in this picture! They are like the "poster children" for good obedience (and it helps they are dog-gone adorable!)
The second was a snail-mail greeting card from Simba of
http://simbas-world.blogspot.com
It came all the way from the United Kingdom! It came with an adorable snapshot of Simba looking dapper in a Santa hat! I will add this to the other snail-mail greeting cards and get a snapshot picture of Cayman with all of them together.
I will be sending mine out after Thanksgiving. Its not too late to send me your email address and blog address if you would like an e-card from Cayman! Just send that info to doxidoggybloggy@gmail.com and I will send you one. This way if you missed out on the DWB Holiday Card exchange participant list, you can still get one. Or if you originally signed up for snail-mail only and decided that you would still like one from Cayman (since I am sending e-cards only in an effort to "go green" this year).